Modern smartphones perform mini-miracles everyday, connecting people worldwide and ever-increasingly performing amazing feats. Mobile scanning apps take the stage for small wins every day, with Scanner Pro providing versatility for all the things life can throw at you. For those quick but important tasks, such as adding new contacts from business cards, scanning receipts or taking an image of a whiteboard during a business meeting. Let's take a stroll through the average day in the life of Scanner Pro.
Get Scanner Pro Plus this Black Friday with an exclusive 3 months free access. Offer lasts until midnight 2nd December GMT+2. The deal has ended — please check back next year.
Scan and store crucial documents to cut down clutter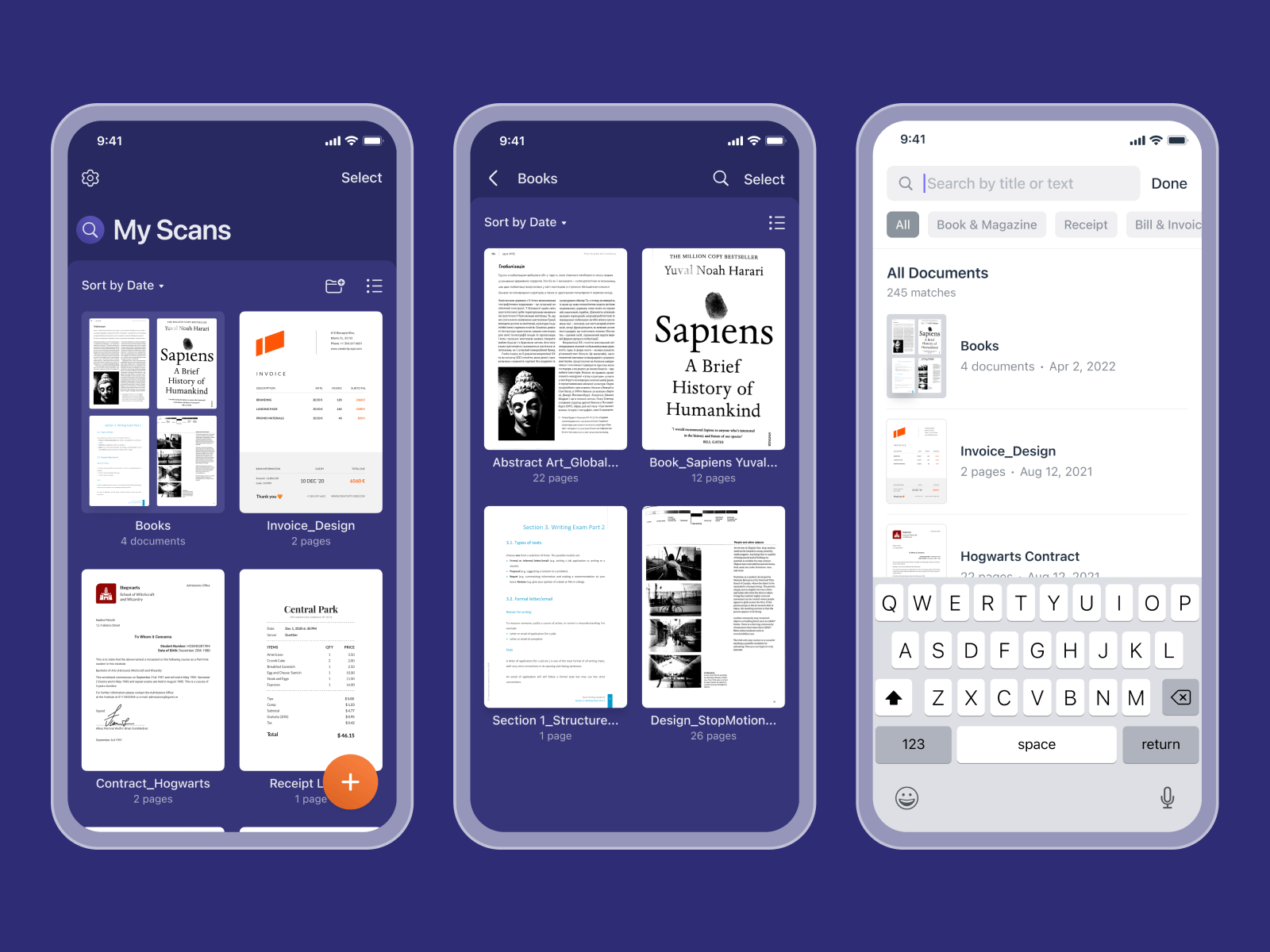 In the whirlwind of life it's easy to lose important documents. After making a purchase, you might want to track your expenses, or are required to keep receipts for business purposes. Scanner Pro allows you to create a neat online archive uploaded automatically to the cloud, where each scan will not get lost in the void. More importantly, you can create multiple folders, locate documents in an instant with smart search and categorize your documents any way you see fit.
The world is your oyster so they say - from receipts, to legal documents and instruction manuals. Imagine your washing machine has packed in. Life is pretty much over. You're in a mad rush to find the instruction manual or you need that all-important warranty. With Scanner Pro you can save all your instructions or technical books in PDF format. In a couple of taps everything is in front of your eyes.
You can even keep confidential documents safe in your device behind a password or your face ID, so that only you can easily access them later. By getting into the habit of scanning documents you deem important, you'll never have to worry about losing crucial information. And best of all, Scanner Pro will keep important documents as long as you need them.
Process documents for study or work
While smartphone cameras offer great quality nowadays they miss out on a few of the neat tricks that Scanner Pro has up its sleeve. Most crucially is the ability to detect document borders, so that even if your angle is a little off, Scanner Pro will automatically snap the image to the corner. If anything is still amiss it just takes a few pinches to make the necessary adjustments for the perfect document.
Even better, is the technology deployed to instantly clear distortions and remove shadows, stray fingers and pesky stains. All this means you can take a scan that looks like it's seen better days and in a few seconds transform it into something fit for a queen. Ideal for if your dog or child has managed to get to your documents before you could.
One of Scanner Pro's greatest features is the ability to set up workflows that automate a process in a few simple steps. For instance, you might daisy chain the following actions when documenting a receipt for business expenses; rename the scanned document, upload to Google Drive, save to a folder in Scanner Pro, email the scanned document. Who doesn't love a good productivity hack!
Take on the world around you with confidence
Undoubtedly the best tool in Scanner Pro's arsenal is its Text Vision OCR which recognises 25+ languages. What this ultimately means is that on any adventures abroad to countries you're unfamiliar with, whether for work or leisure, you can engage with the world around you. Scan whatever text you need, whether it be a menu, tourist pamphlet or local information. In an instant you can convert the text to your native language and avoid getting lost in translation.
Text Vision OCR also allows you to engage with the most crucial parts of your documents. With the latest iOS 16 if you have a phone number or email to contact, say on a business card for example, you can start a call or open an email pop-up with a single tap. While on-the-go, you can pull the text you need quickly from a document and paste it to a colleague, friend or document. Scanner Pro gives you peace of mind with digital storage for all your important documents - for business, study or leisure, all in one place.
Why snap when you can scan?
Get the most out of Scanner Pro with perfect scans at your fingertips. A high quality scanner for productivity on the go, ideal for remote working and organization without being at the office or library. Fix and align your scans at the touch of a finger - automatically remove shadows, detect borders and correct distortions for a crisp and clear scan.
With Scanner Pro Plus you can create useful workflows, engage with scanned text, search your scans, password protect your library and automatically upload to the cloud. Enjoy Scanner Pro Plus this Black Friday with an exclusive 3 months free access. Offer lasts until December 2nd. The deal has ended — please check back next year.
Explore Readdle's other productivity applications: