Readdle's Scanner Pro is a beautifully designed document scanning app for iOS devices. It is a powerful and feature-rich app that turns your iPhone or iPad into a portable scanner, allowing you to create high-quality scans of documents, photos, newspaper clippings or pretty much anything else using the camera on the device. Scanner Pro is ranked at #2 in the Business category on the App Store, holds a 4.9 star-rating, and has also received rave reviews from the press.
Although there are other document scanning apps available on the App Store, none of the apps offer the same set of features and stellar experience that Scanner Pro is able to bundle with it. One such app available on the App Store is CamScanner, which has been in the news lately for being on the list of 59 Chinese apps banned by the Government of India recently. It has been reported that these apps were banned for "stealing and surreptitiously transmitting users' data in an unauthorized manner," which is something no app should ever do.
CamScanner is still currently banned in India and remains unavailable on the App Store and Google Play. Owing to this, a lot of users who are looking for a way to scan documents and photos are looking for a CamScanner alternative for iPhone and iPad. 
Scanner Pro 7 by Readdle is by far the best CamScanner alternative on the App Store. It features a delightful experience that is handcrafted to perfection on any iOS device. Scanner Pro offers everything you need to quickly scan documents and share them with anyone. We respect your privacy, and never sell or unlawfully share your personal data with any third parties. We have a human readable privacy policy in place, which you can read here.
Here's what makes Scanner Pro such a good document scanner for iPhone & iPad, and why it's a fantastic replacement app for CamScanner.
Quick & Easy Scans using iPhone & iPad Camera
Scanner Pro is an extremely easy-to-use iOS app that helps you create digital scans of your documents, photos, receipts or pretty much any other printed matter quickly & easily. Simply launch the app, hold your device over whatever you want to scan and you scan is ready. It really is that instant.
If you have any multi-page documents, you can add more pages to your digital scan with a quick tap. If you don't like a scan or want to retake it, that's easy too. We've made it super quick and easy to create digital scans using your iPhone or iPad with Scanner Pro 7.
High Quality Scans Created with Advanced Technologies
Scanner Pro automatically detects the edges of your document, waits for the device to stabilize in order to take a crisp and clear photo for the scan, adjusts the orientation and skew of the document so that digital scan appears flat and automatically clicks the photo for you, leaving both your hands to comfortably hold the photo over the document. We've designed Scanner Pro to offer the best scanning experience for iPhone & iPad.
Under the hood, Scanner Pro is powered by a lot of advanced technologies to help you create the best quality digital scans using the modern cameras on your iPhones and iPads.
Automatic Removal of Shadows in Scans
With the latest Scanner Pro update, we've added a fantastic new feature that'll go a long way in producing high quality rich digital scans of your documents. Scanner Pro has a very impressive Shadow Removal feature that automagically removes any shadows from your scanned documents. If you have a harsh light source that sits directly above you, it usually casts a shadow of your phone, your hands, or your head on the document being scanned. Scanner Pro automatically removes these shadows for you, so you get a clean looking scan.
This is just one of the many incredible features that are part of the delightful Scanner Pro experience. We have a lot more features like this planned on our roadmap, so stay tuned to this blog to hear more about our upcoming releases.
Instantaneous Conversions of Documents into Text (OCR)
Scanner Pro 7 offers one-tap access to convert your document scans into text that you can copy & edit using its Optical Character Recognition (OCR) feature. When you scan a book or document that has printed text on it, simply run the Recognize Text (OCR) action on the document and you'll get the ability to select & copy text from the document. Here's how it works.
Powerful Automations with Custom Workflows
Scanner Pro has a nifty feature up its sleeve called Workflows, wherein you can daisy-chain a series of actions together into a workflow and perform them in a sequence using a single tap. For example, you can rename the file you've just scanned, upload it to your favorite cloud service, and email it to a predefined address, all in a single tap.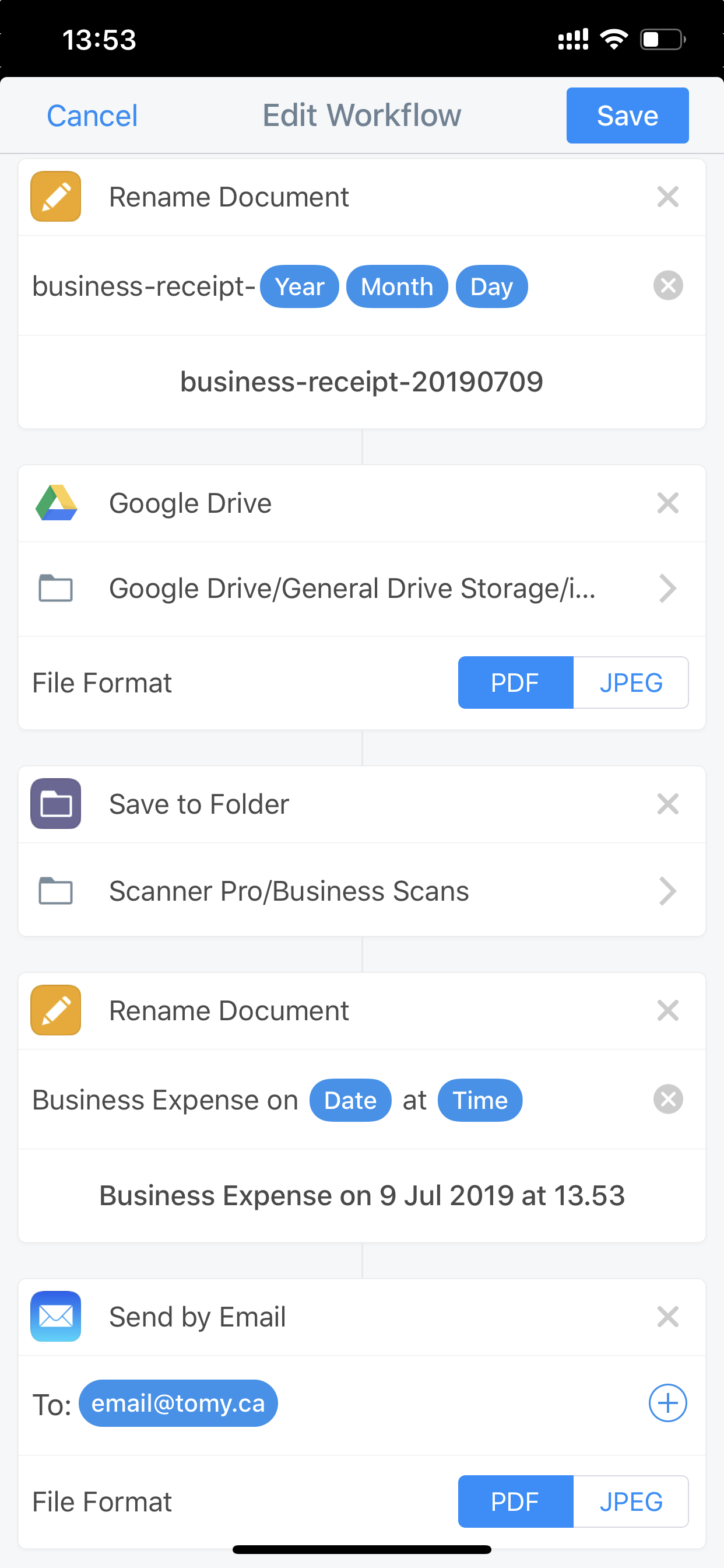 We have written in detail about workflows in Scanner Pro and all the fascinating possibilities of these features, so we recommend that you check out this article below.
 → How to Automate Document Work using Scanner Pro Workflows
Deep Integrations with the Cloud
What good are your high quality digital scans that you create using Scanner Pro if you can only store them on your iPhone or iPad? That's why Scanner Pro supports deep integrations with all the popular cloud storage services like Google Drive, Dropbox, OneDrive, Box, OneNote, Evernote, or any server that supports WebDAV.
Once configured, you can upload and share your scanned documents to any or all of these services either automatically or manually. For example, you can use the Auto Upload feature to automatically upload all your scans to your Google Drive folder, and you can manually upload selected scans to Dropbox as a backup.
These cloud storage services can also be used in Scanner Pro workflows, so you can create a complex flow of actions if you want.
Abundant Praise by the Press
Scanner Pro has received critical acclaim from the press as well as its users. It holds a 4.9 star-rating on the App Store, and has been abundantly praised by the press over the years. Here are some highlights:
New York Times: "Scanner Pro is perhaps the best app for quickly scanning and saving a digital version of a paper document."
MacRumors: "Scanner Pro is one of the most highly rated apps, designed to turn iPhone or iPad into a portable scanner."
The Next Web: "There really isn't a better scanner app for iPhone than Scanner Pro, and it just got a little bit better."
Macworld: "This universal scanner app has some unique features that put it a notch above the rest."
ZDNet: "This app turns iPad into a full-featured scanner that connects to the cloud and can fax documents cheaply."
MacStories: "One of the best OCR systems I've tried on iOS"
---
There are numerous features in Scanner Pro that are designed to help you create best quality digital scans using your iPhone or iPad camera. But when you couple them with the delightful user experience of the app, you get what is the best document scanning app for iPhone & iPad.
While the app is Free to download, CamScanner makes you pay ₹299 per month to use many of its features. If you use it for a year, you end up paying almost ₹3600. Without this subscription, CamScanner adds ugly watermarks on your scans, and restricts access to features like OCR, "HD resolution" and Auto-upload to cloud storage services.
On the other hand, Scanner Pro is available for a one-time purchase of ₹299. Once you own the app, you get access to all its features and functions. Pay just once, and you can create high-quality scans for as long as you want. 
No wonder it's the best CamScanner alternative for iPhone and iPad in India.