Although Fax is considered to be an older technology these days, you'd be surprised how many businesses and governmental agencies still use and rely on fax for their work. There are a number of use-cases where you have to fax a document to someone and in such a case, you often have to run around trying to find a place that can scan a document and fax it for you. Wouldn't it be nice if the powerful iPhone & iPad devices you already have could do this work for you? That's exactly where Scanner Pro comes in.
Scanner Pro is a document scanner app for iPhone and iPad that turns them into a portable scanner that you can carry around in your pocket. And with its built-in Fax integration, it also becomes a portable Fax machine app for iPhone & iPad. When you have to send a fax from iPhone, you can just launch Scanner Pro, scan the document that you want to fax and send it to the recipient. Scanner Pro can fax any document to 50+ countries across the world, so it's a valuable app to have on your iOS device.
In this guide, we'll explain how to send a fax from iPhone and why Scanner Pro is the best fax app for your iPhone or iPad devices.
How to Fax from iPhone or iPad
Get Scanner Pro from the App Store and launch the app.
Tap the orange + button to start a new scan.
Place the document that you want to fax on a flat surface with a contrasting background.
Position the Scanner Pro camer directly above the document and align it such that the document covers the maximum field of view.
Scanner Pro will automatically detect borders from your photos and generate a high-quality scanned document.
Give your scan a name, then tap on Share and choose the Send Fax option.
Enter the To: and From: details and press Next.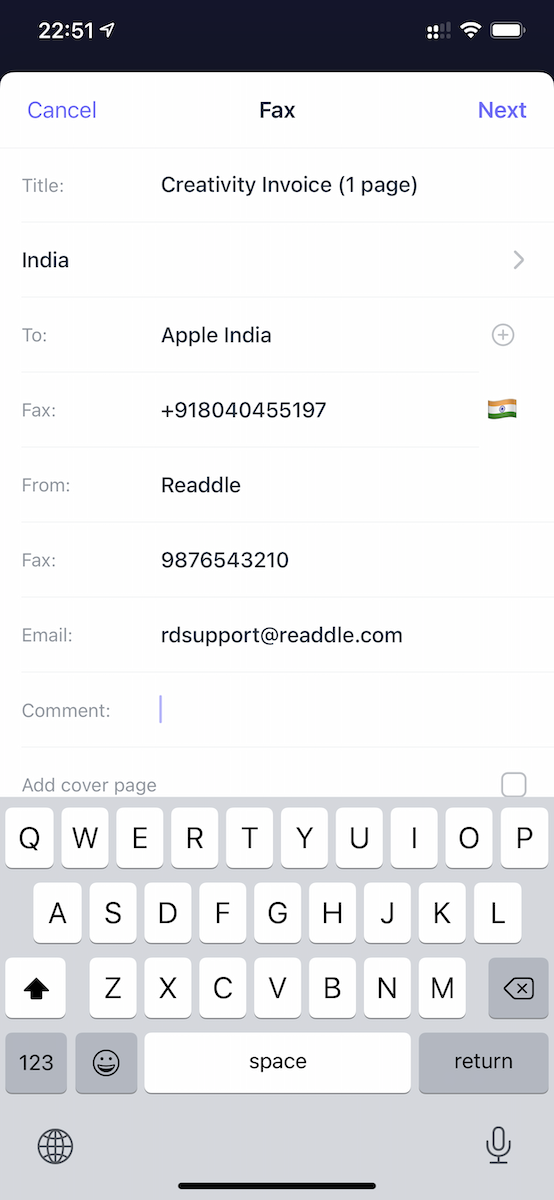 Scanner Pro automatically calculates & shows you the price for sending this fax.
Tap the Send Fax button at the bottom to confirm. 
Now authenticate the purchase using your iTunes account and the fax will be on its way.
Note: Scanner Pro uses an external fax service. The pricing for each fax is calculated automatically by the app based on the country of the recipient and the number of pages in the fax document.
Scanner Pro is a fast & easy-to-use scanner app for iPhones and iPads that also doubles up as a portable fax machine for iOS. This incredible app comes with a wide range of features that make it the ultimate scanner app for iPhone and iPad.
Get Scanner Pro and switch to the best scanner app for iPhone and iPad.