We've all been in situations where we quickly needed to send over some important documents to someone and had to scramble to find a scanner to scan those documents before sending them away. It may be some sets of legal documents or just copies of your ID card, Driver's License, or Bills & Receipts. Typically, you'd need to scan your documents on a flatbed scanner or go to a storefront that would scan the documents for you. But did you know that you can quickly scan documents with your iPhone or iPad, no matter where you are?
Scanner Pro is a document scanner app for iPhone and iPad that lets you create high-quality document scans using the incredible cameras on your device. Here's a detailed guide on how to scan documents on iPhone and iPad using Scanner Pro:
How to Scan Documents with iPhone & iPad:
Download Scanner Pro and launch the app.
Tap the orange + button to create a new scan.
Align the camera over the document that you want to scan. Depending on the type of document you are scanning, choose the corresponding filter in Scanner Pro from Color, Black & White, Photo, or Grayscale.
In Auto-capture mode, Scanner Pro automatically detects the borders of the document and takes a photo for you. Optionally, you can switch to Manual mode to take photos by pressing the round Shutter button.
Continue taking photos of all the pages and documents you want to scan using your iOS device.
Scanner Pro shows the count of pages you've scanned at the bottom right. Tap on it to preview all the scanned pages. Tap on Edit to manually adjust the crop, change document size, change filters or to adjust brightness & contrast settings if needed. Then tap Done.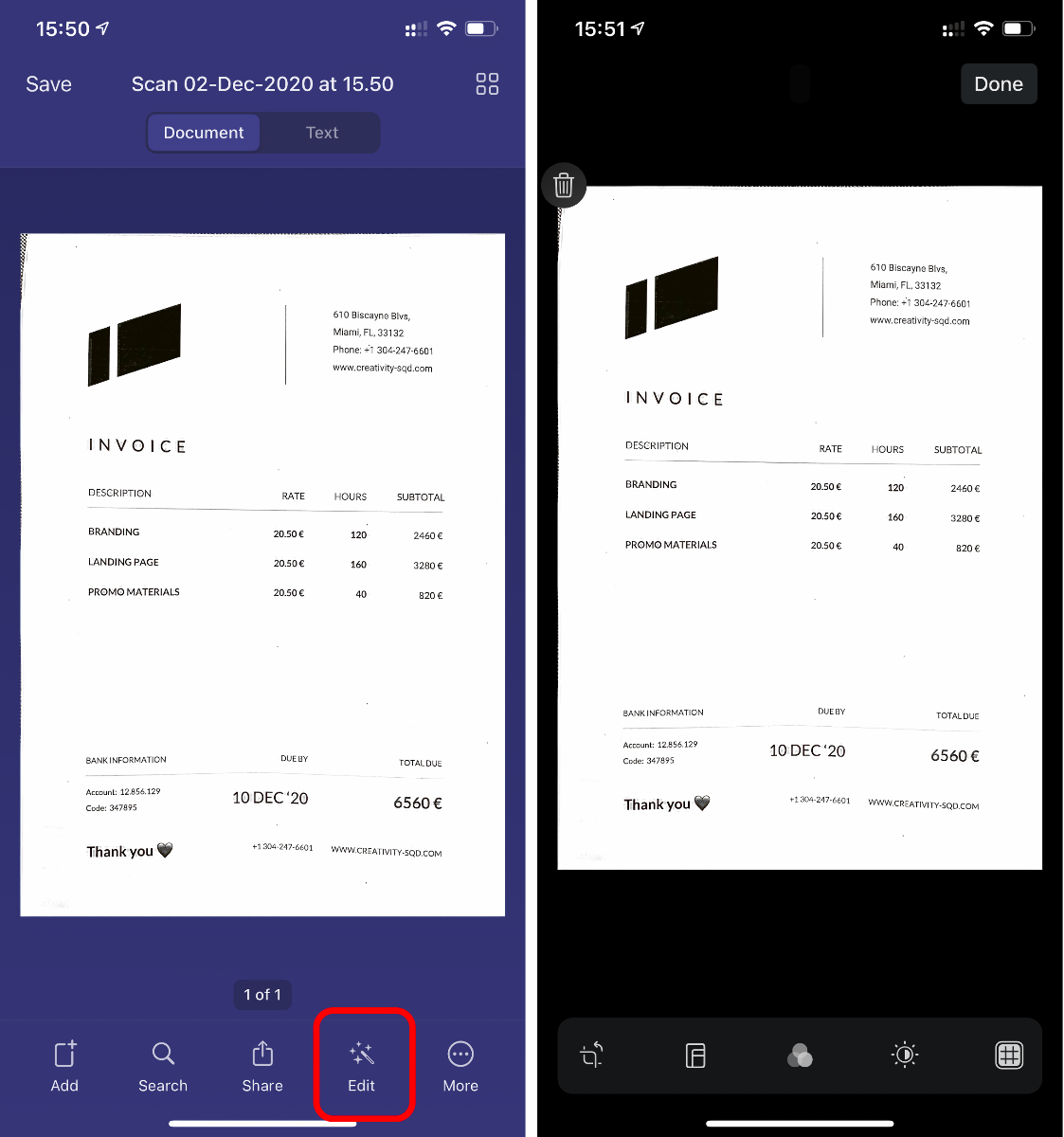 Left: Scan Preview / Right: Edit Options
Left to Right: Adjust Borders, Document Size, Filters, Brightness & Contrast, and Warp
Tap on the title at the top to choose a custom filename and Save your newly created high-quality scanned document from your iPhone or iPad.
Now that we've learned how to scan on iPhone & iPad, you'll be able to create high-quality digital scans of your documents, photos, books and anything else anywhere you are. Your scans can be saved as PDFs or JPGs and can be automatically uploaded to a cloud storage service of your choice or be instantly shared with anyone. You can also create complex Workflows in Scanner Pro 8 to automate frequent tasks.
Get Scanner Pro and switch to the best scanner app for iPhone and iPad.