Thank you for being with us this year!
At Readdle, our mission is to improve your life through technology, especially when it comes to efficiency and productivity. That's why 174 professionals wake up every morning to create amazing products for you. We believe apps should help you win back your time, so you can work less, focus on what matters, and spend more precious moments with your loved ones. It's exciting to know that more and more people are sharing our vision and values.
This year, you downloaded Readdle's apps over 23 million times, resulting in 131 million downloads overall. You're in the amazing company of the world's most productive people, who strive to become better at everything they do.
2019 has been amazing for all of us. Just look at these numbers!
Yet, it's not the number of downloads or updates that mattered the most. It's valuable conversations with you that fueled us throughout the year. We've answered 171K emails, discussed thousands ideas and suggestions from you and conducted dozens of in-depth interviews. It was so exciting to hear your stories: A student who uses Documents for his piano lessons, a Buddhist nun who reads sutras in PDF Expert, a founder of a sound production agency whose team relies on Spark…
Thanks for your love and support! We even have a dedicated #love-is channel for your messages, and it's our favorite place in Slack 😉
Our team sends you warm wishes!
Here are the biggest events we've gone through together in 2019.
The biggest updates in 2019
Spark for Android
You've sent us thousands of emails and tweets asking for the Android version of Spark. In 2019, we've finally shipped it! Spark became our first Android app, making millions of people love email again. We've received a phenomenal response from users and more than a hundred mentions in the global press.
It was an honor for us to have Stephen Fry (who's also a Spark user) voicing this video!
After the launch, we've focused on improving Spark for Android to make sure you have the same premium experience on all platforms.
Later in 2019, Spark received a number of big updates:
Delegation
Email templates
Rich text formatting
Home screen widgets & shortcuts.
There is more exciting Android news to come in 2020!
"Where is Spark for Windows?" you're about to ask 🙂 We're already working on it, but it takes some time to build a smooth and effortless email experience for your PC. Stay tuned!
The all-new PDF Expert 7
This past summer, we launched PDF Expert 7 — our vision of what the ultimate PDF experience for iPhone and iPad should be. We've redesigned the app from scratch to make it beautiful, modern, and easy to use.
PDF Expert 7 is a major change in our business model. We've made it free to download and use for the majority of use cases and added an optional PRO functionality for those who need PDF superpowers. This new business model helps us bring more value to you on an ongoing basis and focus on creating unique experiences for professionals like lawyers, architects, teachers, etc.
As a result, 10X more people downloaded PDF Expert to read books, take notes, fill out forms, and more. We're excited to welcome all of you on board and hope that PDF Expert will help you become brilliant at work and school.
Completely revamped Documents 7
Documents is transforming from just a file manager, into the true king of all apps. Our goal is to make it the most powerful app on the App Store, so you can do anything with your files, without looking for other apps.
Here's what happened to Documents in 2019:
New design. Many of you have been waiting for a redesign of Documents, and we've received lots of suggestions on how to improve the app. As a result, Documents 7 launched with a completely revamped interface to make work with files easier and more intuitive.
Powerful built-in PDF editor & browser improvements. Now, you can do everything with PDFs right in Documents, without relying on other apps. The built-in browser has also got a number of important updates, like a private browsing mode and an option to change the search engine.
FileDrop. Documents added an easy way to wirelessly transfer files between iOS devices. Unlike Apple's AirDrop, it actually works and even lets you send entire folders and maintain their structure. Armed with both FileDrop and the popular Wi-Fi Transfer feature, Documents gives you the freedom to move any files to any device.
Beautiful Calendars app
We set a goal to build the most beautiful and intuitive calendar experience. This year, Calendars 5 received a major redesign to look fresh and modern. And the stunning dark mode with neon colors received much love from our users. It's also become a lot easier to show or hide different calendars, mute the ones you don't need, search through all your events, and connect multiple accounts.
Huge redesign for Spark on iPhones and iPads
With Spark, we're on a mission to build the future of email. That's why we've introduced the all-new Spark, rebuilt from the ground up to provide the best email experience for professionals and their teams. The new Spark is fast, effortless, and modern in appearance. With the new UI and avatars, it's become much easier to breeze through your inbox and focus on important emails.
This was the biggest redesign in years, and we've received tremendous feedback from users who loved the new Spark. Thank you so much for your support!
Fluix: Helping businesses be more productive
How much can a company change in just one year? Well, we decided to let the numbers speak for themselves…In the past year, Fluix (our B2B solution) has grown substantially across the globe — from our team members to our customers. With over 40 team members in 5 countries, Fluix has helped businesses become more efficient by digitizing 1.5M+ documents and automating 12,000+ workflows.
Later this year we hosted a modest group of customers in Berlin, at our first Productivity Meetup. They hailed from Siemens Gamesa discussing their implementation of Fluix across a large field team of wind turbine technicians; to Titan Airways demonstrating how pilots use Fluix to help pilots navigating their flight plans offline and online.
Another notable Fluix partner this year is Zurich Insurance. In just 3 months, the global insurer has 1,000+ app users who have routed and signed over 21,500 digital documents and automated over 450 business processes.
Besides helping companies going paperless, we've launched the "Go Green" initiative to emphasize the importance of environmental and social responsibility. Our team planted 60 trees in Odessa, Ukraine, and we'll honor this new tradition in 2020.
A sneak peek of 2020
2020 will bring more exciting updates to boost your productivity. Let's take a look at some of them:
Spark
We're dedicated to creating effortless and collaborative email experience for professionals and their teams.
On one hand, we will continue our focus of making it an amazing email client for personal use. Making it fast, smart and effortless are the top priorities.
On the other one, we believe that the future of email is collaborative. That's why we're working on advanced team functionality, making Spark a perfect tool for new use cases: CEO + assistant, sales teams, small support teams, and general team inbox.
In 2020, we'll also add support for new platforms, to make sure that everyone on your team can benefit greatly from Spark.
Calendars 5
Our calendar app will aim to become an even more powerful tool for business use, as the Outlook/Exchange support we've recently introduced is just the first step. The iPad version and task manager also deserve some love and will get the new look soon.
PDF Expert
PDF Expert will get the Text Reflow feature on iPhones to improve your reading experience. On iPad, you'll be able to create beautiful notes and planners to organize your life. We're also enabling the Volume Purchase Program (VPP), making it easy for companies and organizations to buy PDF Expert 7 in bulk.
Scanner Pro
We're going to bring your scanning experience to a completely new level. In 2020, our team will work hard to make sure creating top quality scans is even easier and faster.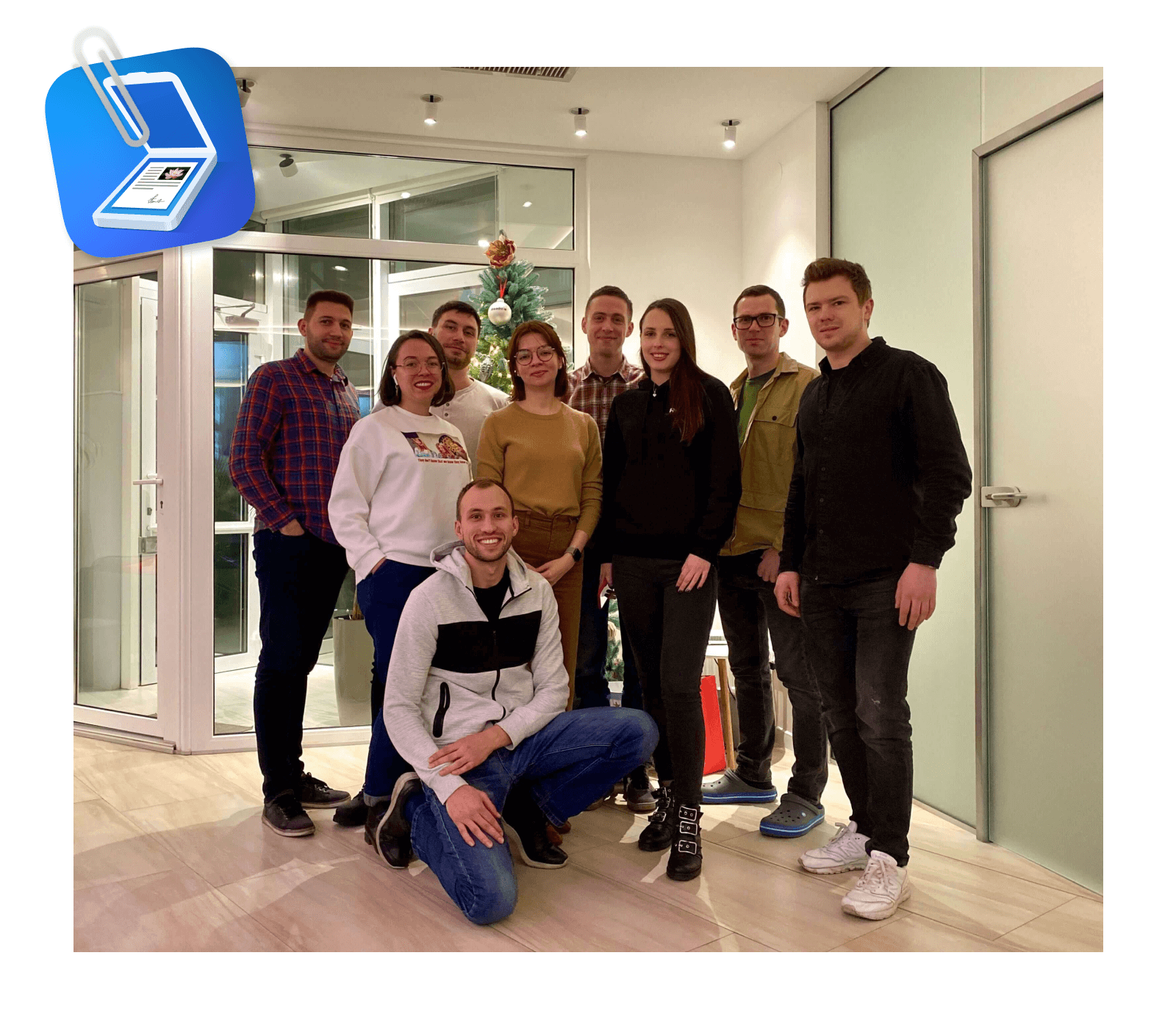 Documents
It will become the true king of all apps, bringing major updates for its browser and media player. You should also expect more privacy inspired features and improvements to every aspect of the app.
---
We wish you a happy and meaningful 2020. Everyone at Readdle will do their very best to help you focus on important things and smash through all your goals.
Do you want to join us and build the best productivity apps? Check our Careers page!
Let's rock it in 2020!