Oh, the frustration you get from the "Attachment is too large" message when you try to email a document! Then you have to go through a process of uploading your documents to the cloud storage, or compressing the files and attaching them all over again… We know, it takes a lot of time and effort just to share large scanned documents from your iPhone. 
This is why we introduce a new Scanner Pro feature - Share by Link. If you need to share large scanned documents without a hassle, just create a link and share it through any channel you want. The person you send the link to will open it and download the files right away - they don't need to have a Scanner Pro installed for this. 
You can now send your scanned file through a link instead of an attachment, which gets around the attachment size limit of most email systems. This is also a lifesaver feature when you need to share a big file in good quality without compressing it. Plus, sending files through the link is much faster and easier. 
The Scanner Pro link sharing is perfect for:
Sharing scanned documents that are too big for email attachments (most email providers have a 25MB attachment limit). 
Ad hoc large file sharing, like scanned photos or articles.
Sharing multipage PDF files with text that was recognized through an OCR. 
Short-term file storage for when your device storage space is limited or when you need to share files between devices. 
Sharing ready-done projects or assignments on the go.
What type of files can I share through a link?
You can use the Scanner Pro Share by Link feature to send any documents in PDF, JPEG, and TXT formats. It can be one document, multiple files batch, or a selection of pages from one document. 
There is a limit of 50MB per upload. You can safely store your scanned files for 7 days for free. After this period, the link will no longer work and files won't be available. If you need to share the files with others after the 7-day period, you can create a new link and share it with them again.
How to share scanned files through a link from an iPhone?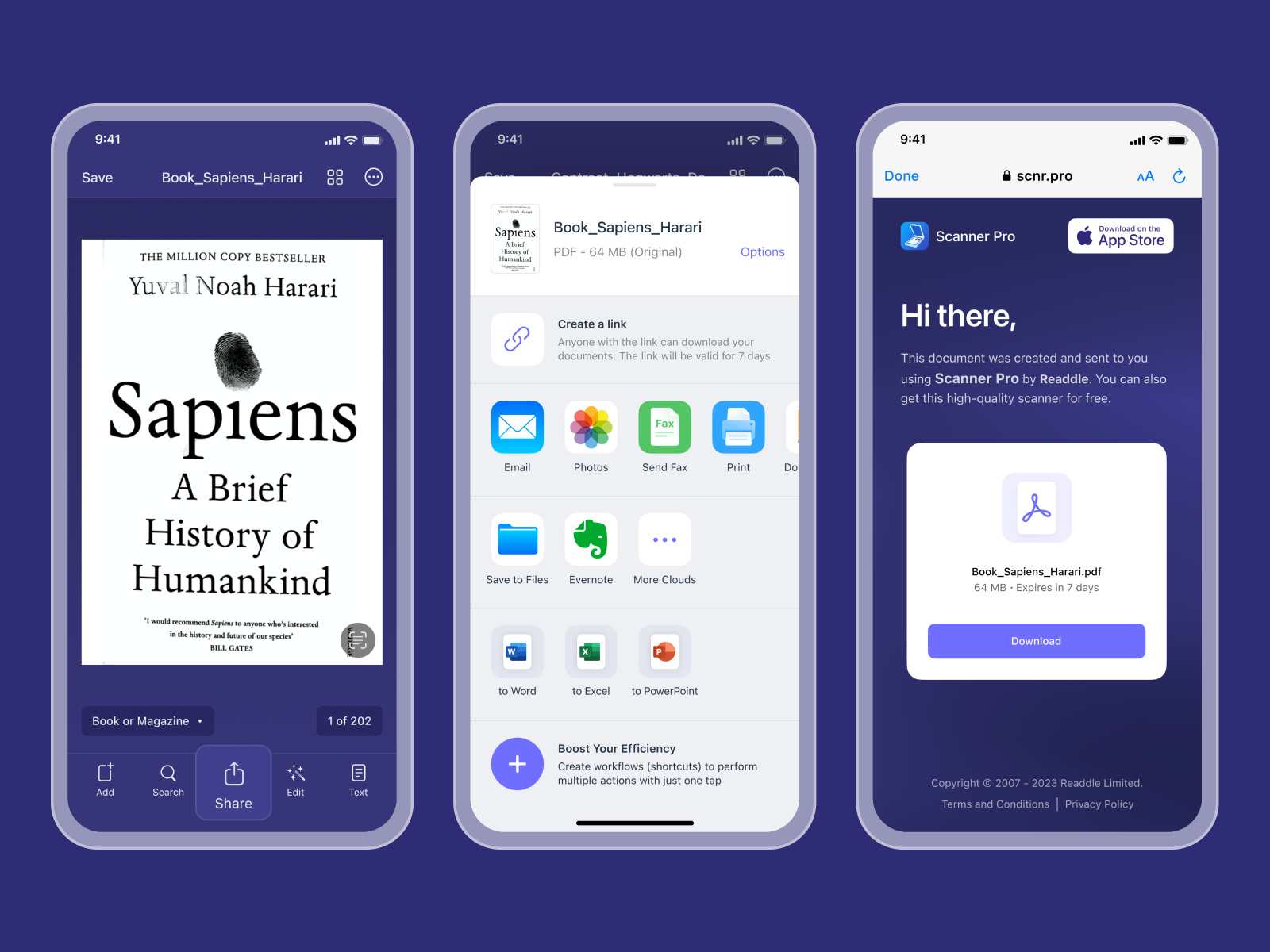 The process is very simple. If you need to scan your files with Scanner Pro first, follow these steps. If you have already scanned the files you want to share:
1. Choose a file you want to share and tap on the "Share" option in the toolbar. Tap the "Create a link" option in the Sharing menu.
2. Wait for the link to be generated and choose an app where you want to share. 
3. The link will be active for 7 days, and the person you have shared your link with can open it and access files on any platform and device. 
This way you can share scanned files to where they need to go - fast and easy. One more way of sharing large files from Scanner Pro is to set up an automated workflow so that files will be uploaded to your cloud storage automatically and be shared instantly. 
Get Scanner Pro and switch to the best scanner app for iPhone and iPad.